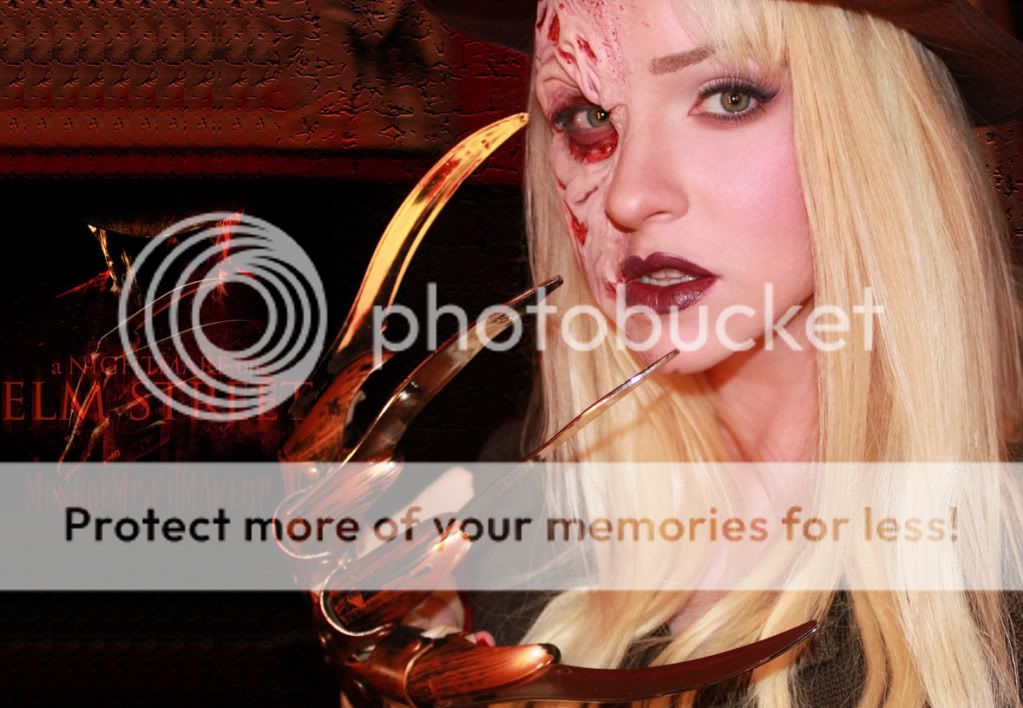 This is true to size so order accordingly. I sized up and it was too big and bulky, but it is easy to alter,
though if you want it more like Freddy's go up. The sweater dress is perfect for the often chilly Halloween nights!
How freakin cool is the glove?!
Since many of you asked, unfortunately I won't be doing Halloween tutorials. It's a little late in the game, and I'm way to swamped with working doing makeup and parties this time of year to have much free time for that stuff. I hope you guys understand :) BUT I will be sharing my own costume looks here over the next few days for inspiration and you can always check out my
Halloween Looks
if you'd like more ideas..heck even some of my regular looks probably qualify :)
Product Listing:
Freddy Face:
Mehron Liquid Latex & Scar Wax
Dinair Airbrush Foundation Golden Beige
Make Up Forever Flash Palette (red & Black)
Graftobian Gel Blood, stippling sponge
Mehron Colorset Powder
Eye: MAC flammable paint, burnt bugundy
Ben Nye bruise wheel (red, purple)
Victim Side:
Dinair Airbrush Foundation Alabaster & Golden Beige
NARS Sin Blush
Brows: Laura Mercier Blonde Eyebrow Pencil
Eyes:
UDPP
MAC vanilla e/s (highlight)
Urban Decay Buck (crease, lowerlashline)
Laura Mercier matte soft pinks/purples e/s
Urban Decay 24/7 liner Whiskey
Nonpareil Boutique False Lashes #20
Lips:
MAC nightmoth lipliner
MAC creme de nude lipstick

Liptini Lip Liqueur Lip & Cheek Stain Almondberry
(layered on top)